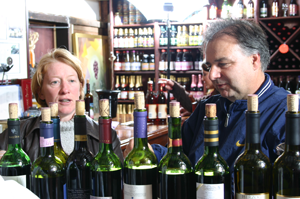 KEDEM WINE CLUB
We invite you to become a part of the Herzog Family of Fine Wines. The Kedem Wine Club gives you the opportunity to enjoy your favorite wines from the comfort of your own home. Enjoy many exclusive club member privileges:
Club members will receive three bottles of wine each quarter averaging $50 (plus tax and shipping) per shipment.
There is no cost to join. We will simply charge your credit card at the time of shipment. If you live close by and would like to save the cost of shipping, you can pick up your shipments at the winery.
Special 20% discount off each wine club shipment, as well as 20% off all regular priced wine purchased at Kedem Winery throughout the year. 10% off juices, vinegars, preserves and merchandise.
One complimentary party per year in our private room (not including wine).
Receive exclusive invitations to member-only events at Kedem Winery.
Download our Wine Club Membership form here
We are only able to ship within New York State.